NEWS; Our Maida Vale store is MOVING NEXT DOOR TO 121 Shirland Rd W9 2EW on 12.04.23 and is open 7.30am to 8:00pm. New store opening in 18-20 Penton St N1 9PS on 01.05.23
Curtain Dry Cleaning Services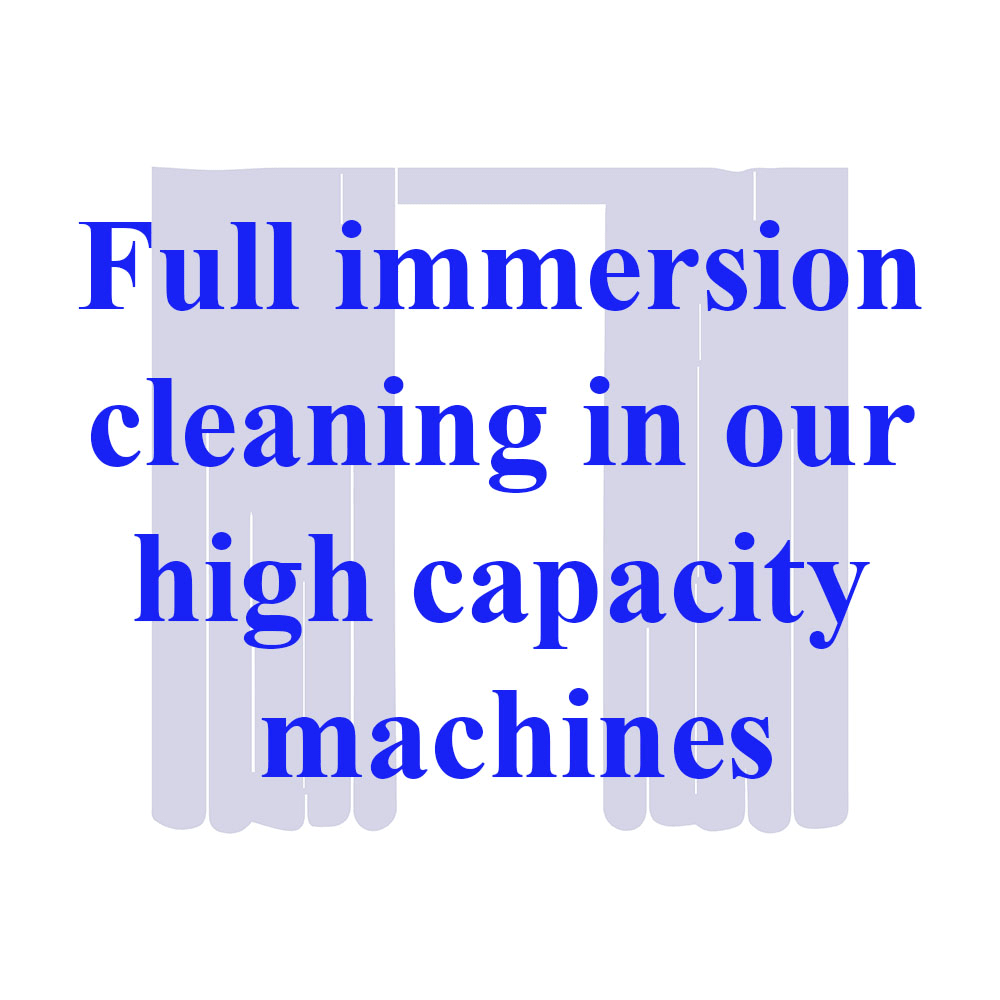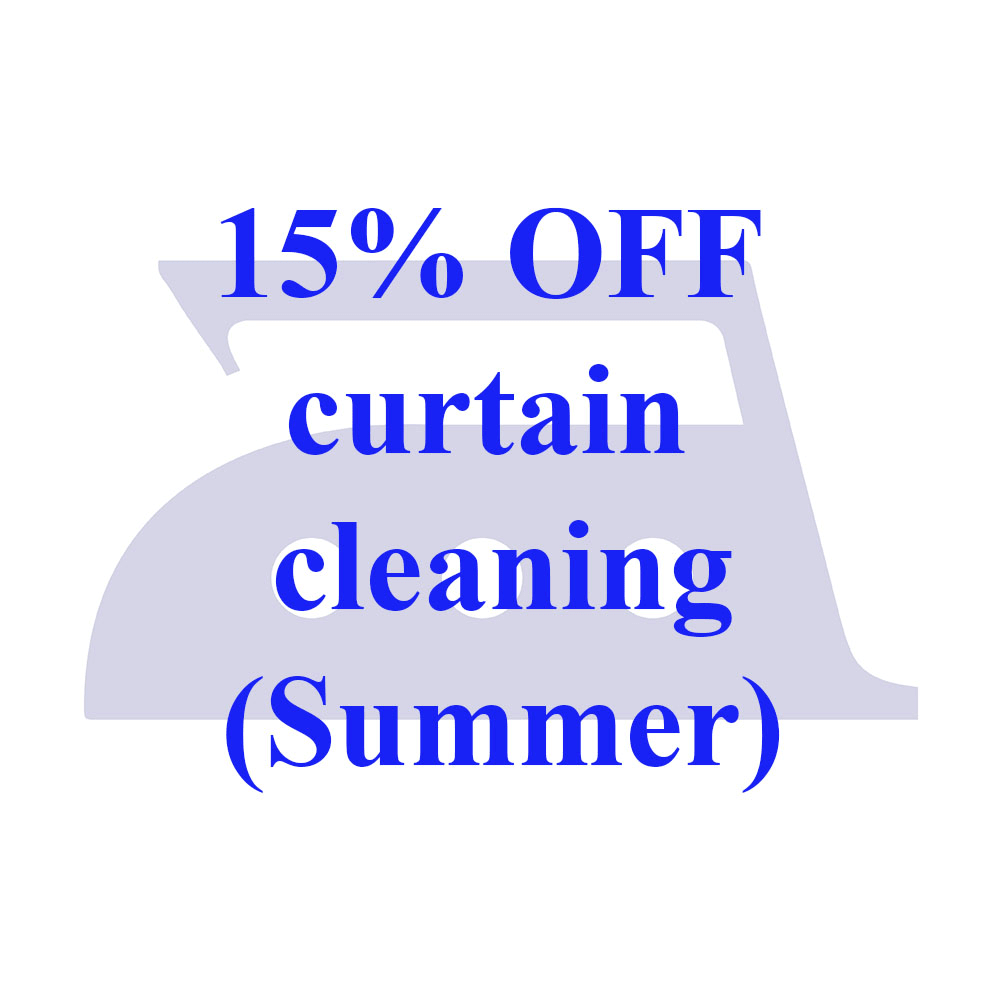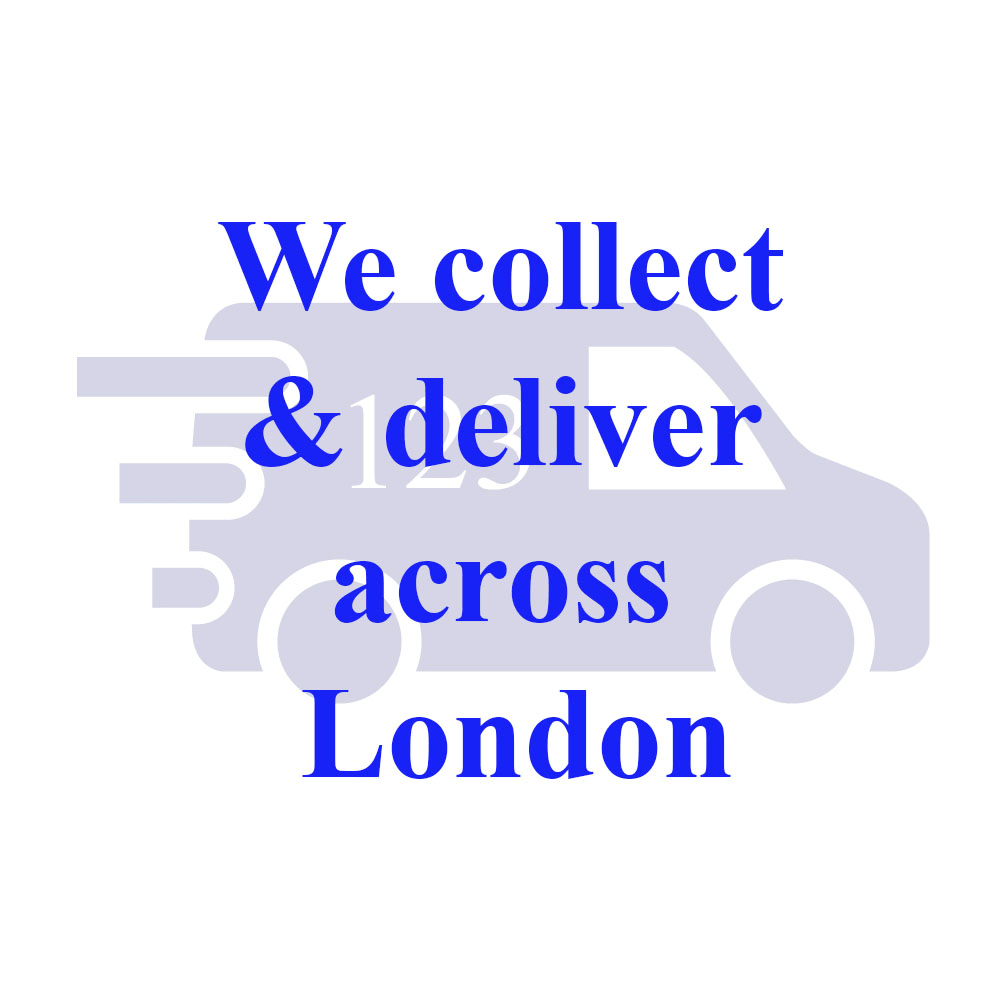 123 Cleaners offer one of London's leading Curtain Cleaning Services with over 45 years of experience in this specialised procedure. We're trusted by leading Curtain Makers and Cleaning Companies, as well as private households. And what's more, our prices are surprisingly reasonable.
All cleaning is done at our Maida Vale Factory in London with its dedicated drapery equipment. (123 Cleaners do not recommend "in situ" cleaning as it is superficial with average results at best).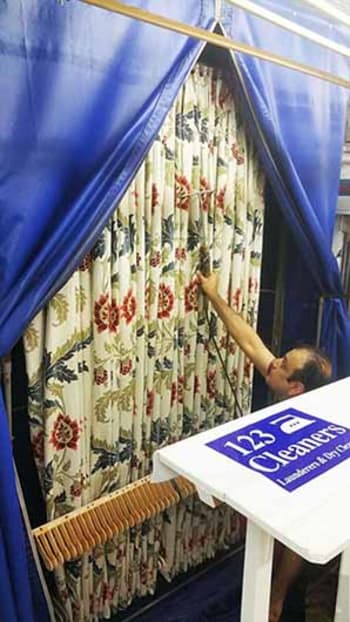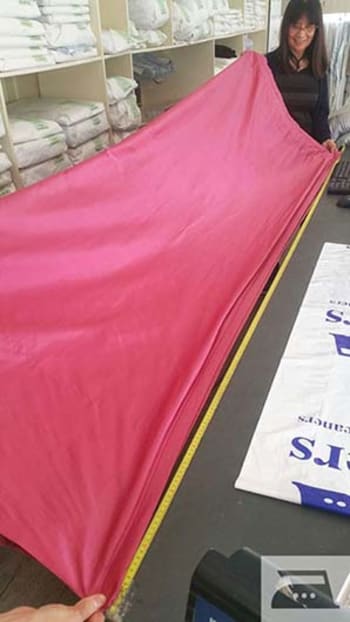 Curtain Dry Cleaning Process
At the initial detailing stage, we inspect the drapes for any weaknesses, stains, lining types and care labels. We also record the length so we can relax any shrinkage at the pressing stage.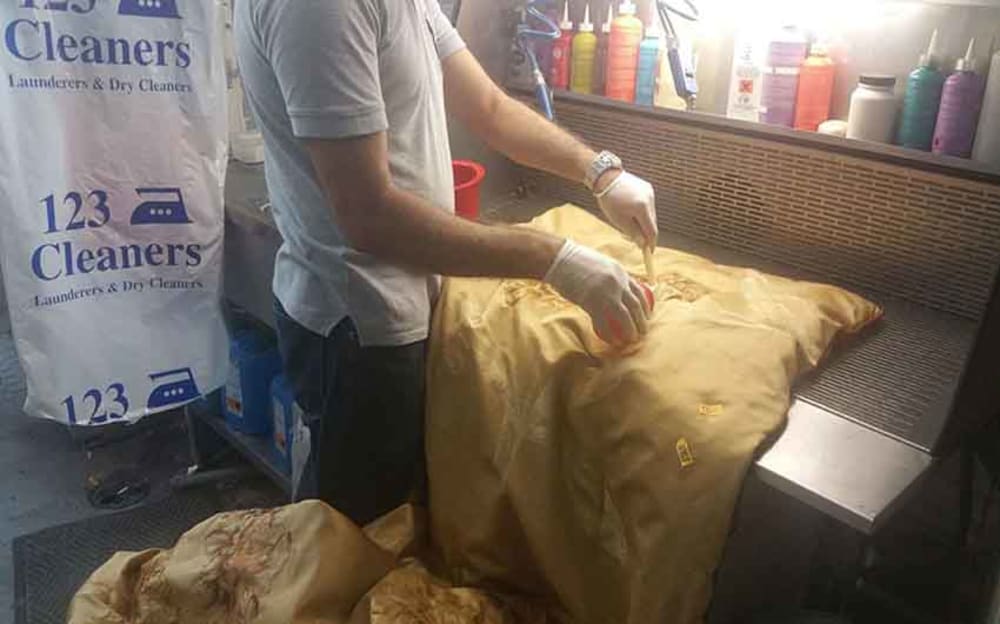 Prior to cleaning, our operators will treat water and general stains on your curtains.
We then commence with the dry cleaning process. Our super large dry cleaning machines allow curtains to move freely in the solvent for a really thorough clean. We use delicate programs specifically designed for curtains. (Reduce mechanical action and lower temperatures to minimise the risk of shrinkage, as well as damage to linings, threads, headers and trims.)
Occasionally we will launder curtains for best results.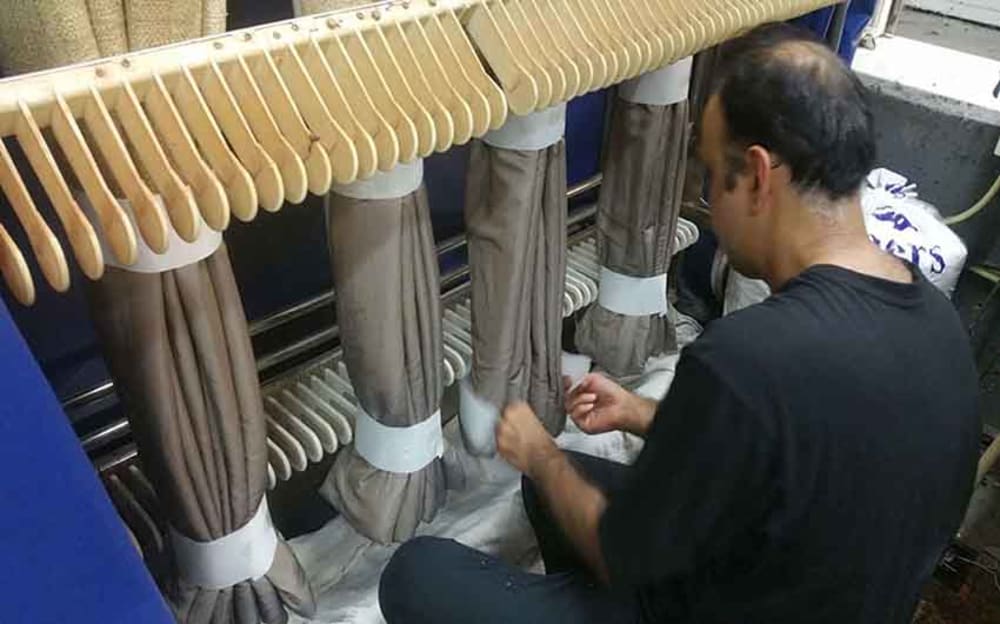 We are one of the few cleaners in the UK that have the Sankosha Curtain Finish Press. This amazing machine will not only steam and press curtains, but will also apply pressure at both ends to re-stretch the fabric, should it be necessary. Pleats are beautifully re-shaped as well.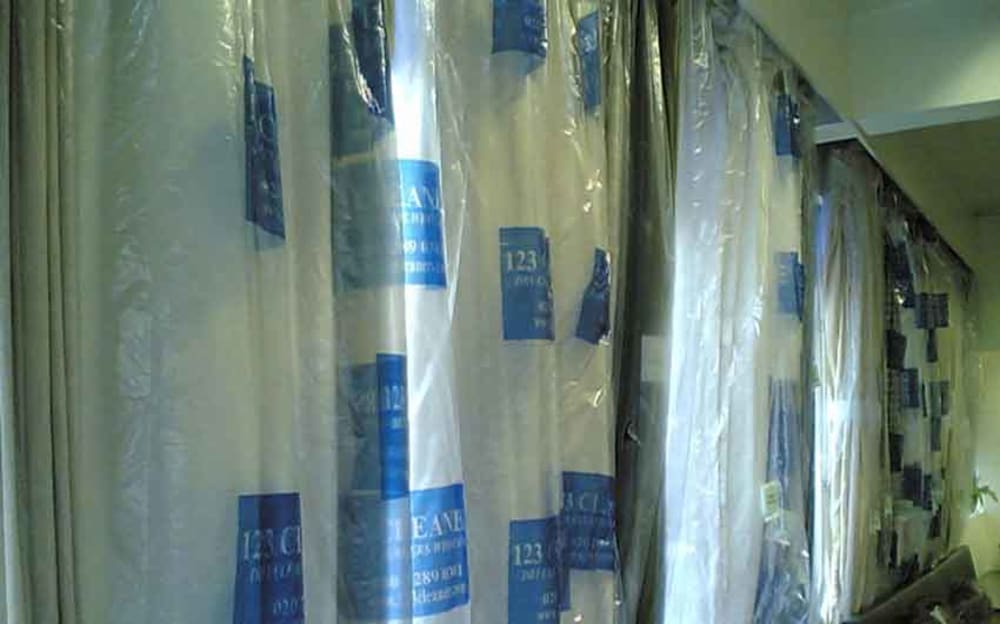 After bagging, we store your curtains using our unique hanging system, which minimises the possibility of unsightly folding marks.
Our Curtain Cleaning process normally takes two working days.
Curtain Cleaning Service Prices
We have 2 levels of service;
Standard cleaning - £13 per kilo (inc VAT).
Specialist cleaning - £16.80 per kilo (inc VAT).
Standard cleaning is suitable for simple sturdy curtains. We recommend our Specialist Curtain and Drapery Cleaning Service for;
High-value curtains.
Curtains with risk of shrinkage where stretching is required at the pressing stage.
Delicate curtains.
Curtains requiring skilled stain removal. (Curtain dyes are notoriously weak)
Certain upcharges may be applied to reflect the extra level of service required for fine materials (+30%), blackout linings (+40%), and interlinings (+35%).
There is currently a 15% discount for all curtains brought into our factory shop.
Collection Delivery
You can bring your curtains to our Maida Vale Factory Shop or Book our Free Collection Delivery Service which covers London.
Curtain Alterations & Repairs
Our Repairs & Alterations Department carries out most curtain size adjustments and repairs.
Types of Curtains, Drapes and Blind Cleaning
We clean all types of curtains and accessories including;
Pencil, box and goblet pleated headings.
Standard, interlined and blackout linings.
Pelmet, swags, cascades, tie-backs.
Roman blinds. (These normally involve string and rod removal/replacement which is carried out by our alteration department)
Nets and Muslin.
Important - Risks associated with Curtain Cleaning
If a manufacturer's care instructions are not affixed to your curtains, cleaning will be at owner's risk. (Although we can advise of likely risk)
Ultraviolet damage or 'sun rot' can weaken curtains (especially linings) which have hung in windows for a long time. The movement in cleaning can damage/tear this weakened material. Owner's risk.
Blackout/vinyl-backed linings - There is a high risk that these linings may blister and peel in the cleaning process. Manufacturers should use materials/linings suitable for dry cleaning but often do not. Regrettably, we find around 1 in 10 blackout linings are damaged in dry cleaning despite our best efforts. Owner's risk.
Shrinkage can occur when cleaning curtains for the first time especially if they are interlined. Although we have various systems to prevent shrinkage it does still occasionally happen. Owner's risk.
Stains cannot always be removed as the dyes in household fabrics tend to lift even with gentle treatment.
Hems & linings - The curtain dry cleaning process involves movement. We cannot accept responsibility for weak stitching coming undone in this movement. Owner's risk.
Our corporate customers include
Violet and George Interior Designers
Regents Curtains and Blind Co
London Property Partners
KLS Interiors
Wrenspire Ltd
London Tokyo Property Services
London Villa Construction
Woolf Interiors
We also Dry Clean Rugs, Sofa covers and Bedspreads.